ABSTRACT
This document proposes to allocate funds for the DAO operational budget for 6 months in the amount of 475,000 USDC.
MOTIVATION
In order to drive the adoption of Rarible Protocol and the development of decentralized NFT infrastructure products, resources need to be allocated to engage with several contributors who will be responsible for community building and product strategy. RARI DAO also shall review some proposals from the legal perspective to stay compliant with the law, which entails additional expenses.
The assumption is that RARI DAO will be working with the most skilled and professional contractors on the market, and it is necessary for the Foundation's success to be able to offer compensation in stable coins or fiat money instead of $RARI in order to be competitive.
RATIONALE
As the Foundation is at the very beginning of its development, a dedicated team is required to deliver value while the community is growing and maturing. These contributors will ensure continuity of the DAO operation and keep the ball rolling while the DAO continues its way towards gradual decentralization.
Operational Budget shall be spent to serve key Foundation purposes:
Ongoing support of the Foundation Community
Define and iterate on the product strategy and roadmap for the Foundation
Potential development and ongoing tech support of the Foundation
Launch partnerships with other players in the web3 space
Legal support of the community initiatives
KEY TERMS
N/a
SPECIFICATIONS
Contributors (Team) to be paid once a month in USDC unless otherwise agreed in their contracts.
Link to job descriptions:
Legal and Administrative costs to be paid upon receiving invoices from the Foundation service providers as per engagement letters or agreements with such entities.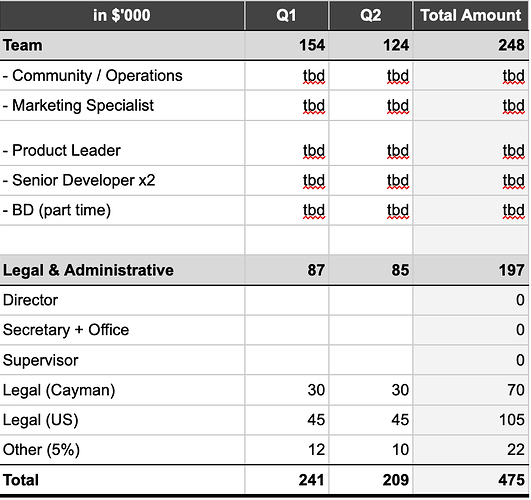 All spendings exceeding the budgeted amount shall be approved by token holders separately.
STEPS TO IMPLEMENT
Upon the budget approval the amount required to fund the first quarter of operations to be transferred to the operational wallet (0x2a83d2891Ef3df6967E3C2e9b69cCc7aD029736), converted to USDC to reduce exchange rate fluctuation risk and stored on the operational wallet 0x2a83d2891Ef3df6967E3C2e9b69cCc7aD029736B.
Find contributors [block "Team"] and agree with them on the terms.
Authorize the Foundation and its director to sign agreements with contributors upon approval by legal advisors.
Payments within the approved budget in accordance with signed contracts to be made by the Director of Foundation who will be responsible for the budget.