Problem / Opportunity
What problem or opportunity are you looking to solve?
We would like to build a custom delegate dashboard for Rarible DAO. We have worked with a number of DAOs in the ecosytem and you can see delegate dashboards we have built here: https://www.karmahq.xyz/daos. Our dashboards can be used for:
Onboarding delegates (instead of using forum thread asking delegates to join).

Displays delegate activity stats across Snapshot voting, Forum, Discord and anything else you want to track. Ex: https://delegate.gitcoin.co/profile/kbw.eth#votinghistory

Integration with Snapshot delegation so token holders can find the ideal candidate and delegate their voting power.
Example: https://delegate.gitcoin.co/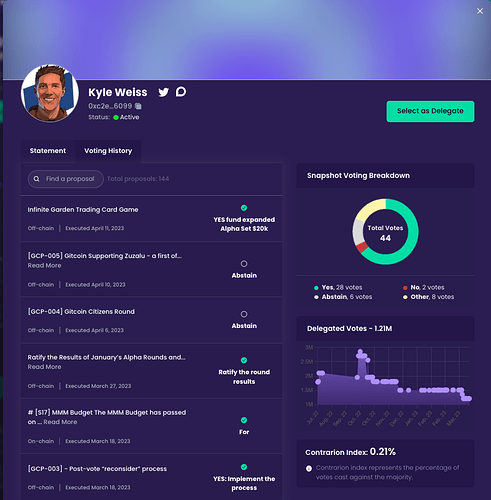 Funding Milestones and Payments
Milestone 1 (2 weeks)
Identify all the sources of integration (tracking) and agree on the approach with Rari Foundation team. This will include Snapshot, Forum, Discord and anything else the DAO would like us to index.
Deliverable: Shared Doc with the outlined tracking and scoring requirements.
Payment: $3k
Milestone 2 (2 weeks)
Implementation of custom Dashboard that will allow delegates to sign up and add their info and token holders to delegate their tokens.
Deliverable: Handover of custom Dashboard incl. accountability thread in forum to update the community and collect feedback.
Payment: $7k
Payments will be made to the following Ethereum address: 0xC98786D5A7a03C1e74AffCb97fF7eF8a710DA09B
Use of funds
Funds will be used to pay our team of devs.
Business Model
We charge DAOs on an annual basis for building and managing these dashboards. The data is constantly updated and features are being added to the dashboard on weekly basis.
Team Members
The contact person for this project will be Mahesh Murthy. Their contact information is mahesh@karmahq.xyz and their Discord handle is mmurthy | karmahq.xyz#4254
How long has your team worked together? What other projects have you worked on?
We have been working on this project for 18 months.
Accountability
We will create a thread on the forum and post regular updates on progress. We will share relevant docs and links to the dashboard as soon as it is up and running. We will attend community calls to update the community on our progress.
Why should Rarible DAO fund this?
Below are a high level benefits of this dashboard:
Provides more visibility to token holders on who is active in governance.

Helps Rari token holders find delegates to assign voting power further improving governance.

Easy onboarding will encourage more delegates to join the DAO and contribute.

Advanced stats helps hold delegates accountable.
Overall, having this visibility and making it easy to participate in governance will help the DAO become more decentralized and stronger.
Useful Links & Media
Home page: https://karmahq.xyz/
DAOs we currently support: karmahq.xyz/daos
Twitter: https://twitter.com/karmahq_